Subscribe to our monthly newsletter to hear about future classes.
"My daughter and I loved this class!
…an indelible memory, a reference point, 
for how good food can be."
-John from Alaska, Meatsmith Member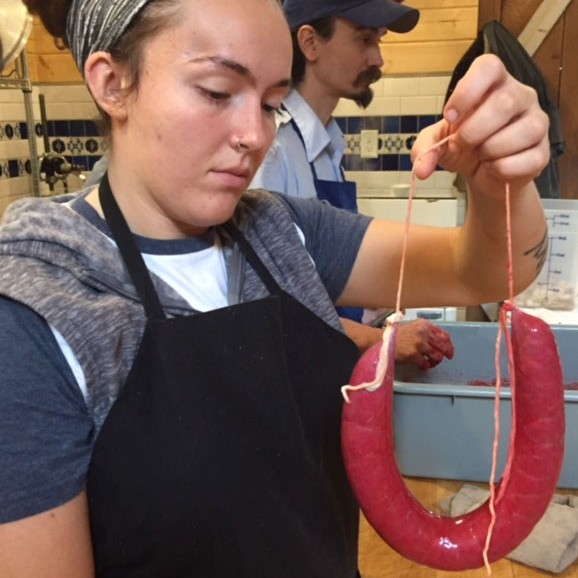 The Curriculum
All 3 days of each class weekend are at our homestead and butcher shop just outside of Tulsa, Oklahoma.
Using antique cutlery and your hands, each 3-day event transforms two pigs of heritage breed into fresh, cured and cooked pork.
This 3-day course is unparalleled in breadth and depth of porcine harvesting. Anyone who wants to seriously learn the art of pork provender for the farm, homestead or home kitchen will want to take this course. In the industry, we offer the fullest range of experience. We hope you will consider how this course will impact the life of you and your family and come learn with us.
A Video of What to Expect
Each day, we start at 9:00am and we break bread together and commemorate our work with an afternoon meal.  Our ingredients come from the pig and from our garden.  Delicious coffee and cream are provided each day. Classes usually continue well into the afternoon or early evening and finish when the larder is full.  In any case, we work at your pace. Bring notepads and filming devices.
The Menu
Slaughter on Thursday: On the land and using only your hands, we will impart traditional slaughter, scalding, scraping and eviscerating methods.  All too often, farmers labor to produce beautiful pigs only to have them skinned on the day of slaughter.  This sacrifices all the back fat, the full head, the crackling on your roasts and the bacteria essential to traditional curing.  In resolute opposition to this waste, we will scald and scrape with efficiency and conviction.
On Slaughter Day, the pig gives us her offal at its peak of freshness and flavor.  So we enjoy what is historically known as pig cheer, a feast of innards in a simple sauce with leavened bread, greens and wine.
Butchery/Curing on Friday: Inside our butcher shop, we'll be working with the four sides of pork we prepared the previous day.  We will explore the purity of traditional butchery and curing in their simplicity.  We work with your hands, cleavers, sharp knives and antique wood chopping blocks.  While the art of butchery is infinite, you will come away with the ability to break down any four-legged livestock carcass.  Because butchery serves cookery, you will also find that no cut of meat is out of  your culinary reach.  Working with the pig's physiology will equip you to cook it perfectly.  The secrets are sharp knives and artful quartering.  We'll also start the essential triumvirate of porcine cures: bacon, prosciutto and guanciale.  Salt and care, being our primary ingredients, supplant slavish reliance on synthetic nitrates and nitrites.
On Butchery Day, a hearty steak-and-kidney pie is our meal, baked in the ineffable crunchiness of a leaf lard crust.  Wine will be served too.
Sausage/Charcuterie on Saturday: We'll reserve some of the pork shoulder from butchery day for you to mix and hand stuff into links.  As you will see, salt and fat are the most important ingredients to any sausage, and this pork, being from pigs husbanded in perfect small homestead conditions,  will have the quality and quantity of fat sure to supply.  We'll refresh our cures from the previous day to continue our curing education, including a discussion on the fermentation of sausages into salami.  Our final labors will be to put the back-fat to its rightful use in liver pâté terrines, crepinettes and blood sausage.
On Charcuterie Day, we do our best to polish off the kitchen's gallimaufry of boudin noir, pâté, sausages and crepinettes, aided by the welcome freshness of a quickly fermented kale salad, tangy cheese and, of course, wine.
Take home 3 pounds of the sausage you make.
Each meal will be served with the sauce of labor.
Parting Gifts
Now included with these 3-day events:
***New: 2 months free access to the Meatsmith Membership, which includes

All Butcher's Salt e-chapters for you to download
Our slaughter film, To Kill A Pig Nicely
4+ years' worth of harvest films, live chat archives, articles and forum dialogue
Podcast topic & questioning priority

3 lbs. of your hand-made sausage.
*Lifetime access to our private Facebook page, Meatsmith Table, for class graduates and members only.*
(The knife sharpening method that Brandon learned from is now on YouTube on the Carter Cutlery channel.)
These serve as ready refreshers of what you learn with us.  They are unparalleled in American butchery educational materials because they return to the radical orthodoxy of the peasant kitchen.
Course Testimonials
"The utility of this information will have immediate and long-term use. As a home chef, I expect to use it regularly for my domestic culinary investigations and pleasure. The long term impact of the class will continue to reveal itself with age. So much of the material (and the experience) is detailed, inter-disciplinary, bloody, emotional and tasty! It is one of the those experiences that will always be a culinary, social, emotional reference point to tie to other experiences. This is one of the principal values of the class in my mind."
John, Alaska
"I've flown halfway across the country to attend a class of yours and watched your videos numerous times. The desire was already there for me to take on the life of sustainability, self-reliance, and kitchen economy. You all just provided the direction and spark… I'm all in because of you folks!"
Jay, Arizona
"I've participated in two hog processing classes. The classes and videos gave me the courage to raise my own hogs. We partnered with the Meatsmiths to host a class and harvest two of the 5 hogs. With the help of friends we processed three hogs on our own, cured three prosciutto, smoked and cured our own bacon, and made head cheese. In all that, the best part of all the learning is the growth of my family and friends. I can't tell you how many wonderful people we call friends because of the porcine adventure."
Jon; Shelton, WA
"You guys have a played a major role in our farm/homestead development of which pigs are the driving factor. Definitely have empowered me and my family. we have done some butchery since watching your videos. I hope to reference you for future marketing development for our farm. And one day get you to do a workshop (fingers crossed) I'm in west Tennessee in case you needed a gage of how far your outreach is. Thanks a million."
Justin, Tennessee
"I took the course to feel confident repeating the process on my own pigs in the future and that future starts in two weeks! The class takes 95% of the mystery out of the process, there is nothing like flying solo, but I'm confident that we'll shepard our pig humanely and beautifully through the process and make delicious meals for my family and friends.
I observed and learned about so many new things, knife skills, animal husbandry, the nearly limitless uses of the pig. I can't wait to start the process on my first pig and grow and learn more with each from there.
I can't say enough good things about the experience with Brandon, his family and his farm. The Family Pig was well worth the time and resources invested. I recommend it without reservation."
Rob Bodkin