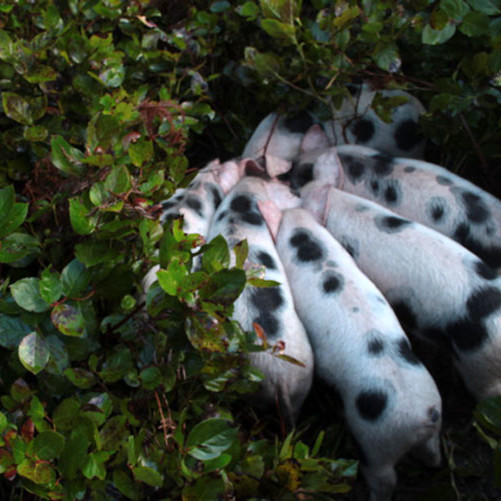 Now offering Spring, 2018 Pork Shares
The flavor of pork properly husbanded and expertly harvested beguiles analysis. At best, I can say that it reminds me of cashews, browned butter, aromatic cheese, roasted sweet potatoes and caramel but these are mere tributes. To know this mystery, it cannot be put into words; we must put it in our mouths.
So you can rest assured that with each of our pigs, I am going for nothing less than ineffable cosmic enigma flavor.
Part of the recipe is economy, but I don't employ the modern sense of the word. I mean benevolent ingenuity that venerates the earth's bounty and repose, where the language of waste is unintelligible. In other words, old-world ham.
In northern Spain, there are ancient hills of pasture and oak trees. For centuries, pigs have been grazing these hills as an essential part of the ecosystem, not an interruption. The sacrificio de cerdos or pig slaughter is also the acorn harvest. The oak trees and grasses thrive without competition from understory brambles, cleared by the pigs, and the pigs are thanked with an annual gallimaufry of acorns. This relationship produces the best air dried ham in the world, the jamon de bellota.
In another holistic arrangement, the prosciutto di parma gets its "parma" from the whey left over from making parmigiana-reggiano cheese. The pigs are fed on it and once again, thrift and extravagance have kissed in Italian ham.
There is a small cow dairy and creamery on Vashon called Cornerstone Farm less than 10 miles from us.  For the love we both share of small-scale husbandry, no-waste harvesting and good pork, this year, we have partnered with Cornerstone Farm to supply us with their gorgeous skim and whey for the shares.
The pigs will eat locally grown organic barley and peas from Scratch and Peck, soaked in the salubrious whey as it's available. They enjoy forage when the land is dry and mudless shelter when it rains. This diet combined with the genetic disposition of Gloucestershire Old Spot pigs and my methods of harvesting create a loop tight enough to express terrior.
These shares are a new evolution in our share program. We have partnered with this carefully selected local dairy to raise these pigs to our lofty standards. Dairies and piggeries are one of the oldest agricultural partnerships. With this in mind I will raise & harvest each pig myself, from the piglet to the kill to the cure.
Distinctives of this Product
New: Our package includes cold smoking all bacon, hams and hocks. Our wood comes from Vashon and our own woodlot.
The Gloucestershire Old Spot breed: These are the cottage pigs of yore and I selected them for their unique ability to generously deposit sweet saturated fat, cheesy unsaturated fat and make the most of forage.
Management: Our goal is to raise these not at the expense of the soil, but to its benefit. Consequently, our pigs are never forced to live in lagoons of mud.
Slaughter & Butchery: During slaughter, we retain the skin, head and trotters. As to butchery, you get 100% of your hanging weight. These kind of pigs find the notion of trim to be offensive.
Curing: Rather than lean on the crutch of nitrites, we employ detailed knowledge of traditional curing processes. These require no weird sugars or non-food items.
We're friends forever: For this round, we are dispensing with a befuddling order form. The harmony of the spheres as well as 100% of the global pork eating population unequivocally loves bacon, ham and sausage. The physiology of a side of pork results in a few more roasts, chops, and braises as well. Cutting a pig this way eliminates waste which makes it possible for us to fit an entire side into each share. Also, we want you to stay in touch with your questions so we can offer cookery guidance.
Includes
One share is 100% of one side of pork and will take the form of:
roughly 10-20lbs linked sausage
rendered leaf lard
one belly of bacon–cured, smoked and sliced/wrapped for your freezer
2-3 brined hocks
2 smoked hams
8-10 chops
1 tenderloin
1 loin roast
3-4 shoulder roasts
1 roll of back fat
half a head
a cured jowl, or guanciale
SOLD OUT, no shares available at this time
When
This Spring share will be available April 2018. We estimate hanging weight to be 140-250 lbs for each carcass (many factors make this a wide estimate), putting a share (1/2 pig) between 70-125 lbs. The cost is $11.65/pound for everything, including all the value-added items: no added fees or product up-sales. This price includes all your sausage, bacon, hams and rendered lard. * As intimate customers, you'll also receive all our current The Butcher's Salt e-chapters.
How to Get One
Email us to reserve a share: community@farmsteadmeatsmith.com
Pay a $350 non-refundable deposit to confirm share.  Pay a second $350 in February for final feed costs.  (You can also pay $700 all at once).
We'll email you in early April for pickup confirmation.
Pay the balance when you pickup your share.
Thank you for reading,
Brandon, Lauren, Wallace, John Luke, Simon, Mary, Beatrice and this pig pictured whom Johnny named Stripes.